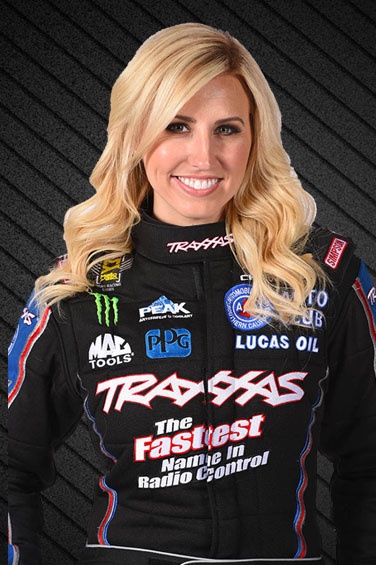 COURTNEY FORCE ESCAPES SERIOUS INJURY FROM SEATTLE INCIDENT
RENTON, WA (August 7, 2016) --- NHRA Mello Yello Drag Racing Series racer Courtney Force escaped serious injury after a racing incident in the first round of Sunday's eliminations at Pacific Raceways. Force's Traxxas Chevrolet Camaro SS Funny Car made contact with the left guard wall. Force exited the vehicle on her own power and was checked by NHRA emergency services personnel before heading to Valley Medical Center in Renton, Wash., where she was evaluated for head, neck, knee, elbow and shoulder injuries.
"I am beat up pretty good. My arm, my shoulder, and my right knee are banged up. I am really thankful that the second I got out of the race car there was already a Safety Safari person right there to help me get down. I couldn't put any weight on my right knee. I want to say thanks to everyone that was at the track who helped me. I got right to the ER and the doctor checked me out. I am extremely relieved nothing is broken," said Force.
Doctors released Force from the hospital this evening but expect her to be very sore tomorrow. X-rays of her right knee, left elbow and left shoulder along with a CT scan of her head and cervical spine were negative. The tendon on the knee was intact but there was a contusion from contact with the steering wheel. Force will see a sports orthopedist in Lake Tahoe, Nev., where the family has a summer home for continued evaluation and to make sure there is not a partial tendon tear in the knee.
Read More