Automation: it's not just for high production
When people hear the term "automation", it usually conjures visions of high production processes, where shops are running hundreds of thousands of the same part. But in today's ever-changing and increasingly competitive industry that is not always the case. Just like many small job shops have begun to migrate toward 5-axis machines to increase multi-sided part efficiency, those same shops are also beginning to move toward automation to help them increase profits and impact their bottom line.
To understand and begin this migration toward automation, you first must understand and "buy-in" to the ideas of standardization and palletization. Winning in the game of "high-mix, low-volume" part manufacturing means reducing spindle downtime, and the first step towards winning that battle is standardizing your setup process. …after all, at the end of the day you can only invoice for the parts that you have completed. So reducing the idle time between jobs is a crucial step to getting more done in a typical eight hour shift.
Palletizing and standardizing your setups can be done in a variety of ways, such as: installing a sub-plate on the machine table, that has labeled rows and columns of locating holes, for quick and accurate placement of workholding; adding a quick-change pallet receiver system; and even standardizing material sizes and part zero locations that are utilized for every part are all examples of how this next crucial strep can be accomplished. Whatever idea you come up with to make it quicker and easier to switch from job "A" to job "B", with as little downtime as possible, is the correct answer to this question.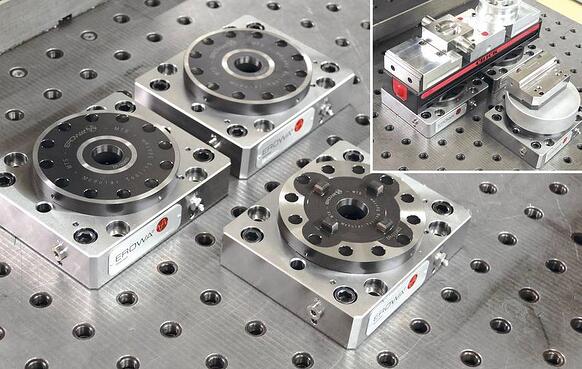 Now, once you have completed the first steps of standardizing and palletizing your setup, then you can begin to think about the next step…which is automating the process. This could be as simple as hand-loaded pallets that the operator switches out manually, or it could be as complex as a robot that automatically switches the pallets in a lights out or hands-off approach. The pallets could be loaded with the same part, over and over again in a large quantity order scenario…or, because you have now standardized on material size and the part setup location of each job, these pallets could also be loaded with several different parts for the smaller order quantities that exist in a "high-mix, low-volume" environment. Either way, you are beginning to make the process of changeover work FOR you, and not AGAINST you.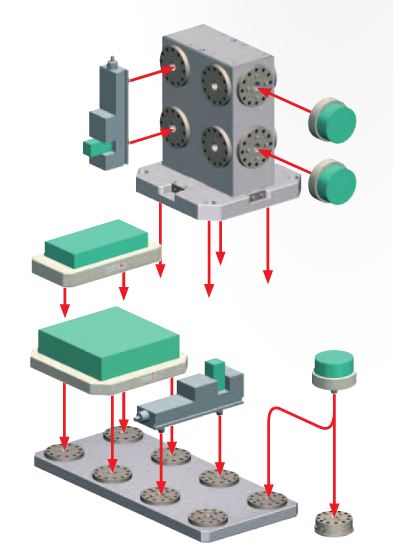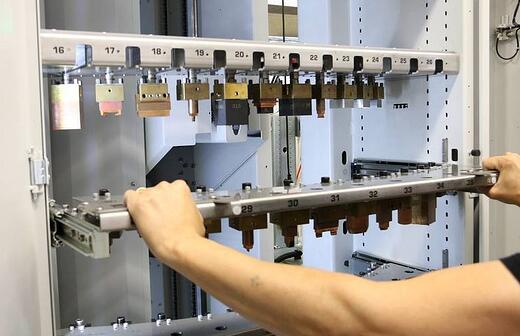 As we all know, a common argument against this type of automation – especially the addition of an actual robot – is the expense. There is no doubt that the items that are necessary for this process are costly, and the initial investment will be expensive and somewhat awkward at first; but after you begin tracking the time and the amount of money that is being wasted in the alternatively slow, inefficient, and painful process of the more commonly used methods, it becomes obvious that the cost of NOT automating is far more expensive.
This year at IMTS 2014, Hurco partnered with Erowa to demonstrate the benefits of automation to our customers. We installed an Erowa Compact Robot alongside one of our 5-axis machines at the show, and used the opportunity to demonstrate loading and unloading several different parts in a high-mix, low-volume scenario…which is a scenario that many of our customers find themselves in. The feedback that we received was overwhelming, and many of these shops could envision themselves utilizing this technology in a lights-out process - that would allow them to run parts unattended throughout a weekend or during a 3rd shift, when the machines would normally be sitting idle.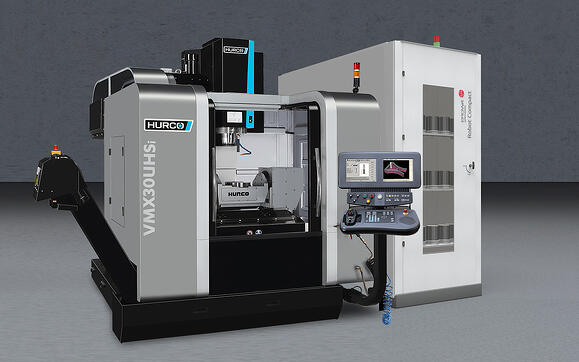 When automating the manufacturing process - whether you are loading pallets or jobs manually or automatically in a lights-out scenario – you will need to have a way to seamlessly move from one program to the next, and a way to prioritize and schedule when a particular program will run. The way Hurco has addressed this issue is with a control feature called JobList.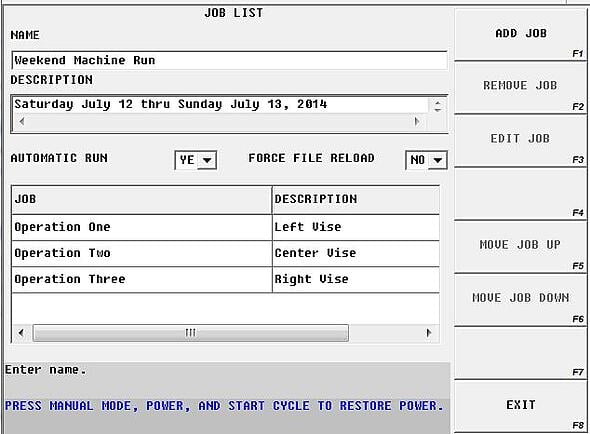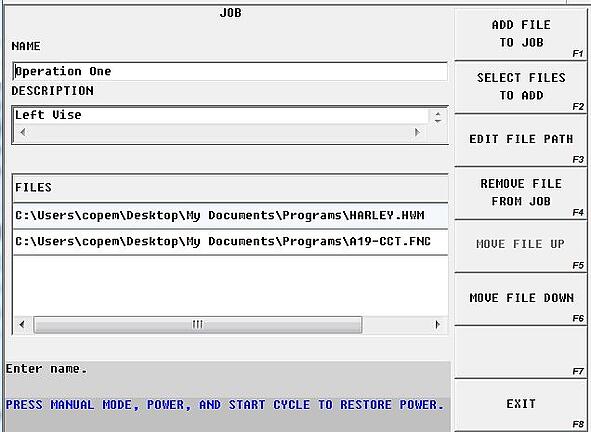 The JobList function in the WinMax control allows an operator to group part programs together by specific projects (or jobs), and then prioritize and schedule when those jobs will be executed on the machine. For example: an operator can load up a series of jobs into vises on the table, or onto individual pallets in a robot, and then execute a JobList that will run over the weekend, unattended.
With palletization and standardization of the setup process, and by utilizing control technology like the Hurco WinMax JobList, shop owners can rest easy in the confidence that they have done everything possible to reduce spindle downtime in their shop, while effectively increasing shop efficiency and profitability.
To learn more about how Hurco control technology and features could help your shop click the link below: