Is Conversational Programming Dead in Today's Machine Shop?
Is Conversational Programming Dead in Today's Machine Shop?
During my 35+ years in manufacturing, I have worked at several shops and visited hundreds more. In the vast majority of these job shops, there has been at least one CNC machine with some type of conversational programming – and in many of these shops, they used conversational programming for most of their work.
However, in the last 10 or 15 years, there have been rumblings that the use of conversational programming is on the decline and therefore "conversational" is no longer a viable option for programming parts on a CNC machine. Keep reading to see why I disagree with this premise. But first, let me give you some stats from our customer surveys:
When you combine the yellow and blue portions of the pie chart, you'll notice that 88% of our customers still find conversational programming helpful and useful, and find it a relevant way to produce parts - even in today's supposed "CAD/CAM only" manufacturing environment. I firmly believe that conversational programming is as useful today as it was "back in the day"…so to speak. Once we take a closer look at the changes that have occurred during the last 10 to 15 years, I think you will see that a change in how shops receive their jobs today is what has led to the misperception that conversational is dead.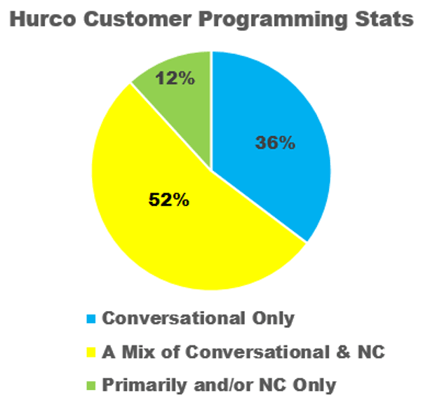 Machine Shops: Then vs Now
In the past, shops received electronic drawing files in either DXF or DWG file formats, or they would be provided with a paper blueprint from their customers. Since the majority of job-shop work is 2D or 2.5D, with what could be described as simple machined features (milled edges, drilled holes, simple pockets or profiles), it was easy to sell the idea of a CNC machine with a conversational control that could be quickly programmed on the shop floor by the operator.
However, as CAD/CAM software has become more prevalent, more engineering companies have started to use this type of software for designing parts. Therefore, shops started receiving more solid models from their customers instead of blueprints and/or DXF or DWG files. Creating paper copies of blueprints from these files and extracting the necessary data from the solid model files to use for conversational programming instead of NC is often just too time consuming, and often it's just not worth the effort. Although the types of parts haven't necessarily changed, these additional steps in the process simply defeat the overall benefit of speed and ease that conversational programming offered shops in the past…and I believe THAT is the real reason for the swing toward CAM systems and NC programming.
So, this must mean that conversational programming is dead. Correct?
Absolutely not!
Conversational Programming provides the flexibility you need to bring order to the chaos of high-mix/low volume manufacturing.
In addition to the basic ease and speed of programming, conversational programming offers another key benefit that CAM programming doesn't: flexibility.
Flexibility that gives you the power to tweak or make changes to the program on the fly (change part feature dimensions, change tooling sizes, alter peck depths, etc.), at the control, and without the need to make changes to the CAM file and repost the program from a computer located in an office somewhere. This flexibility can be a HUGE time saver for high-mix, low volume shops where throughput is so important
One feature in particular that takes flexibility to a whole new level is Hurco's NC/Conversational Merge. NC/Conversational Merge is a tremendous advantage because it lets you merge NC programs with conversational programs, and allows the use of features such as Transform Plane and Pattern data blocks. The ability to merge G-code programs with these pattern blocks allows you to incorporate 3-axis sub-programs in a linear or grid pattern, rotate or scale the G-code programs, mirror image them, or even insert them in a conversational Transform Plane data block on a 5-axis machine for multi-sided machining - all without ever changing any of the G-code itself. It also allows the operator to program simple geometry at the control and then merge in the G-code for features such as 3D surfacing where the use of a CAM system was necessary.
Time and again, shops that say they won't ever use conversational, change their minds once they see just how powerful features like NC/Conversational Merge are, or how fast and easy conversational programming is in general for things like stock preparation or fixture machining.
Video link to:
The Evolution of the Conversational Control to Adapt to Industry Changes.
Hurco invented conversational programming, therefore our purpose has always been to make job shops more productive (and profitable) by delivering CNC machines equipped with sophisticated control technology that provides flexibility and reduces setup time. That's why we continue to strengthen and adapt our conversational control's ability to adapt to industry changes and to the needs of its users.
The most significant feature we've added to conversational programming addresses the changes we've seen in the industry during the last 10 to 15 years that I mentioned previously. The feature is called 3D Import, which has two components to it, Solid Model Import and 3D DXF. Solid Model Import allows the operator to import a solid model file directly into the CNC control and to create conversational data blocks by selecting feature geometry on that model. This offers the user a powerful feature that will allow shops who love conversational a way to bring it back for their CNC machinists. It also provides – as does conversational programming in general – a way to help shops train new operators.
Video link to:
As shops are finding themselves knee-deep in the pains caused by the current "skills gap" within the manufacturing industry, conversational programming can help shops get a less skilled operator trained and programming parts (therefore creating revenue) much quicker than alternative CAD/CAM methods. It also eliminates the need for them to learn G-code programming before they can contribute significantly to the manufacturing process – thereby eliminating a potential job flow bottleneck in the machine shop caused by this new employee having to wait for someone else to program even the simplest of parts.
An operator at John Force Racing's machine shop explained it best when he said: "I wasn't a programmer by any stretch of the imagination before I ran Hurcos; but now that I am doing conversational I'm a setup operator that can program" – (link to video: https://www.youtube.com/watch?v=sdMp_ibb60o)
We also see many of our new Hurco customers – again, who thought they would never use the conversational programming - quickly adopting Conversational Programming once they are exposed to all of its possibilities. One such customer was Virginia Tech College in Blacksburg, Virginia.
Virginia Tech already had some CNC machines, and they were programming them all via CAD/CAM software. After the install and initial training on the Hurco CNC machine, there was still almost two full days of training left on the schedule. Even though the graduate students in this prototype lab were convinced there was no reason they would ever switch from CAD/CAM programming, they ultimately decided they might as well learn a little bit about the conversational control since someone was there and there was training time left.
Once they learned how easy and powerful Hurco conversational programming is, they IMMEDIATELY sidelined CAD/CAM programming for almost all of their projects and switched exclusively to conversational. In fact, their excitement for conversational sparked interest in another department at the university—that interest led to that department purchasing a new Hurco machine for their lab and they program in conversational almost exclusively as well.
So how can we say with some amount of certainty that conversational programming isn't dead?
At the top of this blog post, I provided data about the use of conversational programming and NC programming that we gathered from our customers. I imagine if you're a skeptic about the value of conversational programming, you might think, "Well, of course Hurco customers use conversational programming. Hurco is the inventor of conversational programming!" What about non-Hurco people? Do they care about conversational programming?
Interestingly, a company called CNC Cookbook did a survey on just that subject. The owner of this third party website, not affiliated with Hurco whatsoever, told us the survey consisted of about 500 respondents who operate various brands of CNC machines. Even better…they told us we won (check out the blog we posted when we found out we were the official winner of the Gold Customer Satisfaction Award from CNC Cookbook).
What is even more interesting to me about this survey is the fact that this was not a survey about conversational controls…controls such as FANUC and other basically "NC only" controls are on the list as well (illustrated below on the picture of the results). I think, after all of the data that we received from our own Hurco surveys, coupled with our own experiences in the industry with both new and existing Hurco customers, it is refreshing to see that what we believed all along is actually very true. As evidenced by the CNC Cookbook survey results, conversational is not only "not dead", but it is actually thriving in this new and improved manufacturing environment today! To read more about their survey and the results of the CNC Cookbook Control Customer Satisfaction Survey, go to this link at www.CNCcookbook.com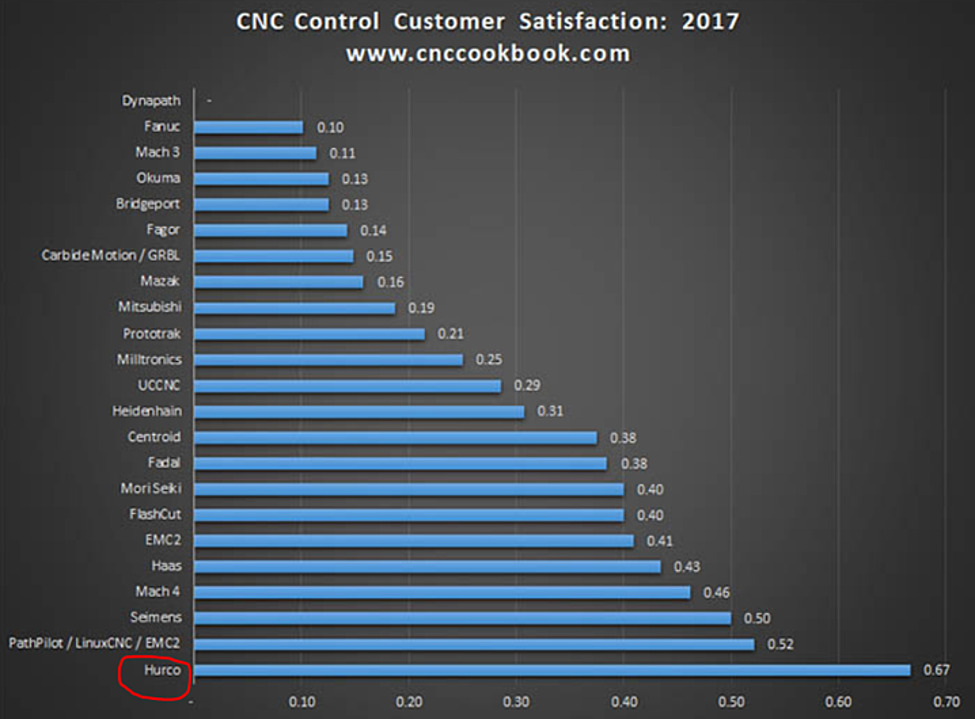 As Bob Warfield from CNC Cookbook explains in the survey results, every CNC machine needs to focus on ease of use and "Add a really good Conversational CNC. Folks, I don't think it's a coincidence that two of our Gold Customer Satisfaction winners, Hurco and PathPilot, are known for great Conversational CNC.
Things happen on the Shop Floor. The round trip to make a change by updating or creating a CAD model, running it through CAM, and then coming all the way back to putting g-code on the machine is a long one. It's fine for complex parts, but why am I running around that track when I just want to put a few holes in a rectangular bracket?
Every CNC Control should have great Conversational CNC!"
To learn more about the Hurco Control and our CNC machines visit www.hurco.com