Flood Warning: a Fantastic Aftermarket Coolant ring for Hurco VM Machines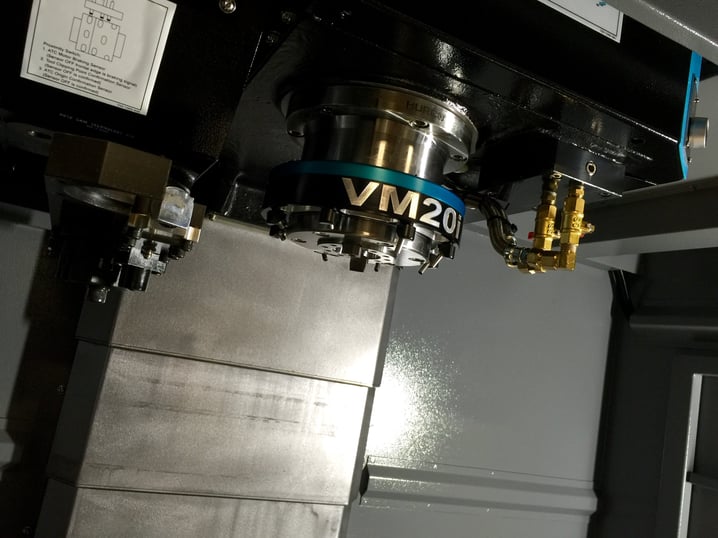 One of the features about a Hurco that many customers love is the 8-nozzle coolant ring that comes standard on all VMX models of vertical machining centers, and the amount and flow of the flood coolant that can be experienced is sometimes unbelievable to many new users. Now Hurco VM owners can experience this same overwhelming feeling of flood coolant!
Historically VM machines were only equipped with the standard Loc-Line flexible coolant lines, but now, thanks to one of our customers, Swanzey Machine Tool, there is an alternative. Swanzey Machine Tool offers a standard kit that will fit any Hurco VM model of machine, and it is quite a nice little package. The kit basically consists of the coolant ring body itself, the nozzles, braided lines, and all the necessary fittings. The installation is very quick and easy, and can be accomplished in about 20 minutes.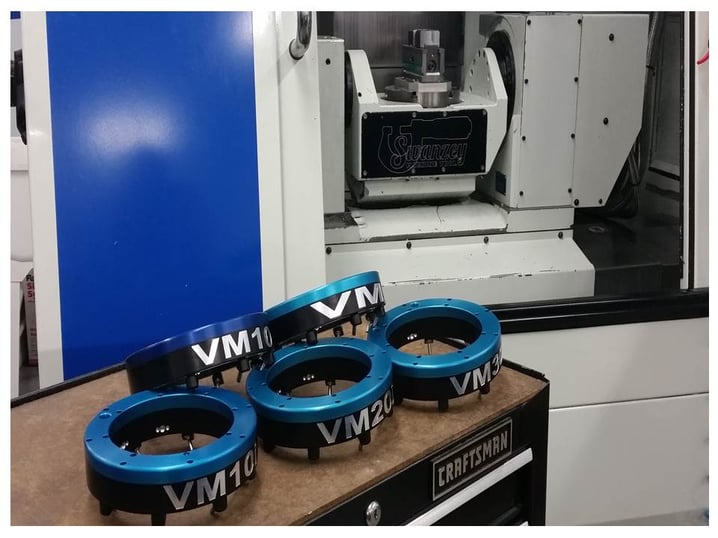 Here is the back story from Peter Nikiforakis, owner at Swanzey Tool:
"My name is Peter! Good Day!
I have been a Hurco Programmer for 12 years now, machining for 20 total. I started my machine shop in 2009 after getting laid off from the Best manufacturing company in the area. They decided that they were going to outsource all of their parts vs making them, so I saw an opportunity. I had a place to setup shop literally in my back yard so I purchased my first VMX24 brand new from Brooks machinery to begin my business. Starting my 3rd year, one of the companies that I worked for was getting big into 5 axis machining. I saw all the complex parts that they made with ease vs regular 3 axis. I knew that my next purchase should be a VM10U [Hurco 5-axis machine].
So having a VMX24 I was used to having the coolant always completely covering the tool, then going over to the 5 axis I would always bump the blue Loc-Lines on the headstock of the trunnion which cost me numerous tools and time. I had known about the pricey Spider Cool units but they didn't have a front mount unit at the time, so I decided to make some sort of way to copy the VMX24's nozzles. So after scratching down a few ideas on paper I came up with a simple idea that I knew would work. I went over to the scrap pile and found a chunk and started milling, soon I had a coolant ring! I used it for a couple jobs and then I said, Hmmm, I think that I should get it Black anodized... and then Blue anodize the top ring... hey! This might look great if I was to rotary engrave Swanzey Machine Tool after anodize! I wanted to try out the feature anyway. So I couldn't wait for it to come back from anodize to try out the software to rotary engrave! My uncle Is good at bending metal pipe so he added some nice 3/8" SS tubing to connect the Ring all neatly out of the way of the trunnion to prevent crashes. I use braided SS hose for cost and assembly reasons for the kits I build. I make them on my VMX24, VM10U, and the Brand New TM8i lathe! I believe that My coolant Rings are better than or equal to a fancy Spider Cool, better coolant around the backside of tall parts, no messing around trying to aim in every new tool, no wires, no moving or mechanical parts, LOWER COST, and they don't have the "factory stock" looks that my Coolant rings have on VM's."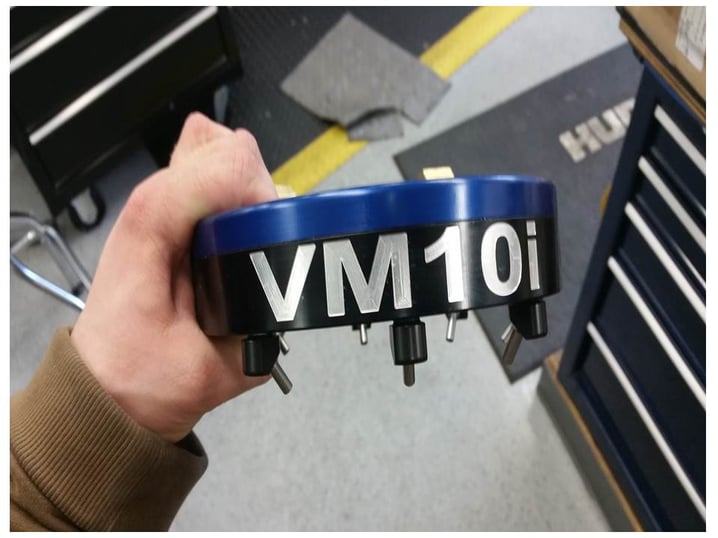 If you are interested in more information about these awesome coolant rings for your Hurco VM machines, please contact Peter Nikiforakis of Swanzey Machine Tool at: swanzeymachinetool@yahoo.com or by telephone at (603) 209-3451
If you would like to read more about products like this one, or just learn more about new machining technologies in general, please subscribe to this blog by clicking on the link below.