Youth in Manufacturing: Hurco inspires through Make48 competition

MANUFACTURING SKILLS GAP
At Hurco, we do whatever we can to support our education and industry partners who are working diligently to attract younger generations to manufacturing and close the skills gap that our industry is currently experiencing.
Our latest support opportunity came in the form of a 48-hour competition at the Purdue Polytechnic Anderson campus, which features a 12,000-square-foot makerspace that is broken up into a 3D printing lab, woodworking shop, metal fabrication area, weld shop and design room. Purdue Polytechnic Anderson is one of Hurco's educational partners located in Anderson, Indiana, which is about one hour north of Indianapolis. During the weekend of July 21 to July 23, they hosted a competition that was put on by an organization called Make48.
WHAT IS MAKE48?
Make48 is a nationwide invention competition that aims to foster innovation and creativity. During each competition, teams gather and are tasked with coming up with an invention that meets the parameters of the challenge. They have 48 hours to put together a working prototype, one-minute marketing video, and sales pitch that they will present to a panel of judges at the end of the competition. To keep things fair and competitive, none of the teams are told what the challenge will be until right before the clock starts ticking down.
The entire event is captured on camera for a docuseries. The series has been nationally syndicated on PBS for the past eight years. However, they have now partnered with the "This Old House Makers Channel" on Roku for upcoming seasons. According to Make48, they have launched 23 innovation-based competitions since 2015.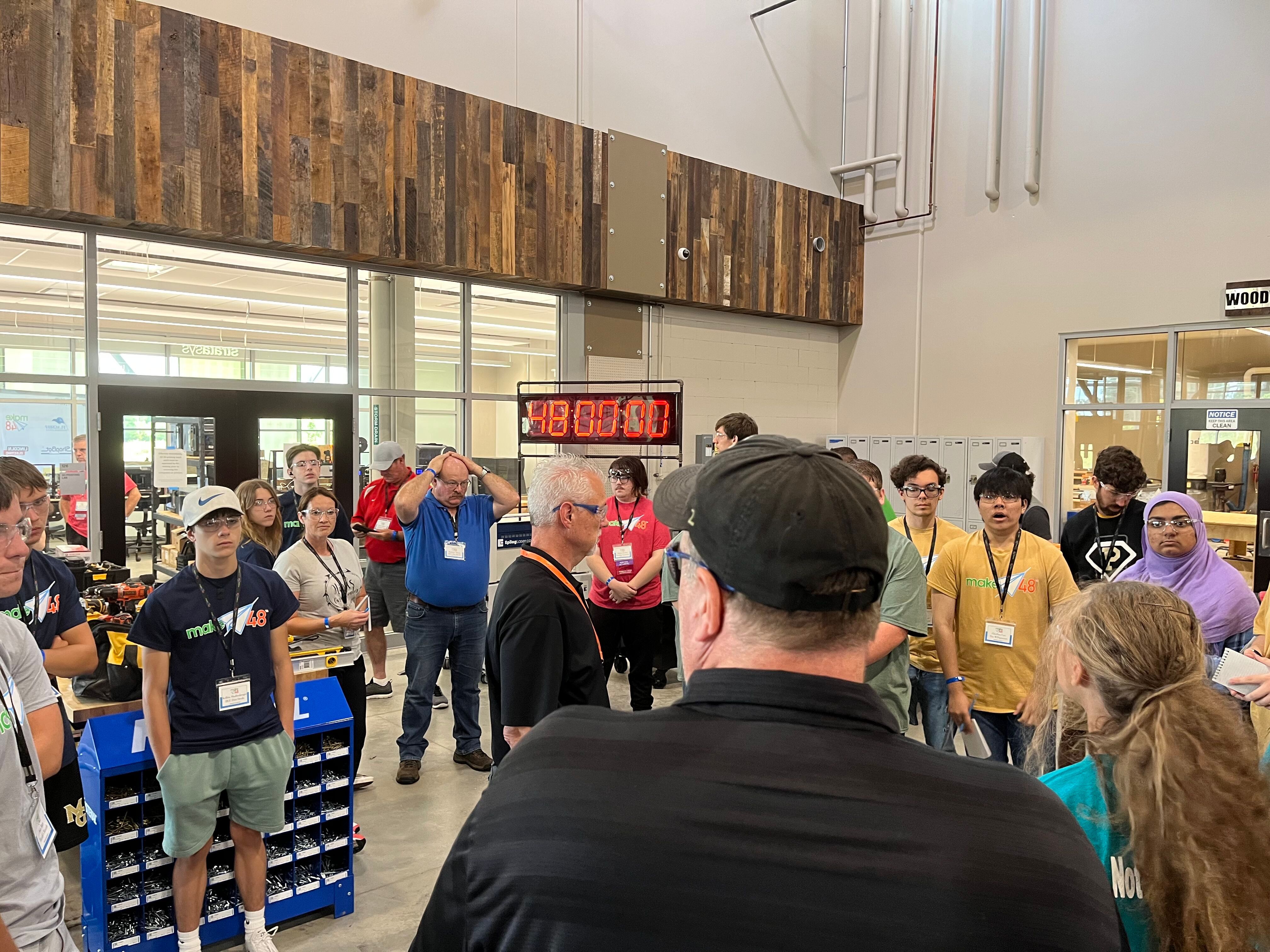 HURCO'S ROLE
Make48 understands that many people have good ideas, but not everyone knows how to build or create a working prototype to bring those ideas to life. So, they enlist the help of builders and industry professionals, called "tool techs," to help the teams build their prototypes. The tool techs are not allowed to help with the design or give any design ideas; they are only there to help build what the teams specifically ask for.
For the event at Purdue Polytechnic, I (Mike Cope) was lucky enough to be invited to participate as a tool tech. I had a BLAST helping the students and educating them on what Hurco CNC machines can do! The Purdue Polytechnic Anderson makerspace featured two Hurcos: a VM10 (3-axis CNC machine) and a TM8 (turning center).
To satisfy our own creative impulses, the tools techs collaborated to build the first and second place trophies. As is tradition with Make48, each of the tool techs contributed to the first place trophy and incorporated something related to the challenge, as well as the Make48 logo.
WEEKEND OF INNOVATION
Our competition included seven teams made up of students from central Indiana high schools and career centers. Each team had an adult mentor who was either an instructor or teacher from their school or career center.
I found it very rewarding to see the students work together to discuss, design, build and assemble their projects. Every team member was important and had their own strengths that they brought to the task. Some were better at concept ideas, and some were better at designing ways to make those concepts work. Others were better at public speaking and were integral in putting together the marketing materials for their presentation. Everyone had a job, and each one was just as important as the others. They learned a lot about teamwork and were introduced to several different building/manufacturing methods.
On the final day, after the 48-hour clock had wound down to its completion, the judging began. Each team had 10 minutes to show the video they created and present their sales pitch. The teams were judged on a long list of criteria that was given to them at the time their challenge was revealed. Two teams were chosen to advance to the national competition in November, while the first-place team also took home $2,000.
So, I'm sure you're wondering:
What was the challenge?
What did the students come up with?
Who won?
You'll have to wait until the episode airs in November to find out!